Post by MyMyMy♥KyKaiKye on Jul 16, 2013 13:43:59 GMT -5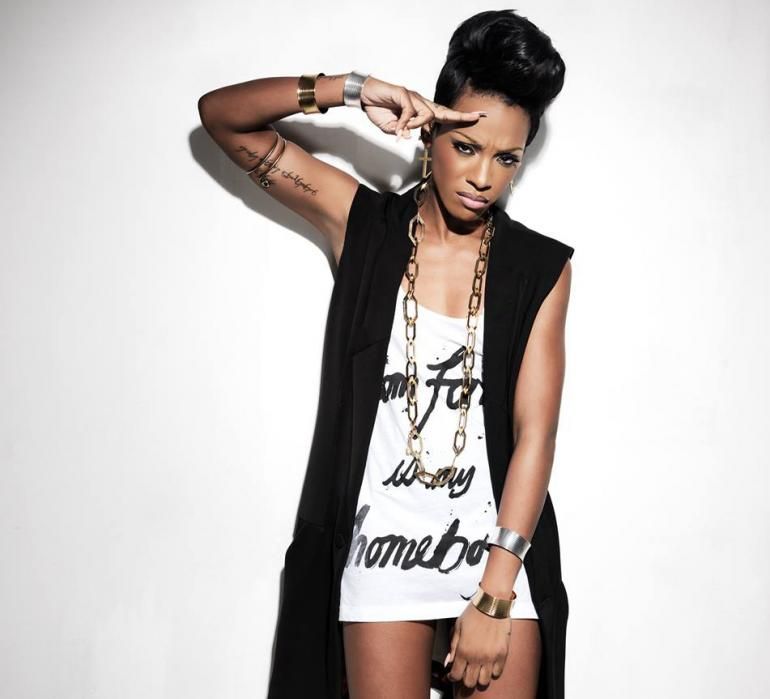 I have to honestly say, she didn't ELUDE, yet didn't SHADE either. Also, I didn't know she was friends with JOJO!! (I love that girl! She can SANG her
ASS
ets off!! lol) It was a good, meaty interview that left lots to imagine. ENJOY!
After numerous performances across the nation since the January release of her debut solo album "GoldenHeart," Dawn Richard has perfected the art of her three-woman show -- consisting of only herself and two backup dancers. She's scored the top spot on the iTunes R&B chart and proven her creative strength as an independent artist, all the while pushing a sound greatly different from the chart-topping fare she presented as a member of the girl group Danity Kane.

The International Business Times caught up with Richard as she begins her descent into a darker era -- her sophomore album "BlackHeart" will be released this October. And her lead single from it, "Meteors," is available now.

She sported a fitted, black jersey and slim black jeans, post-show armor a bit lighter than her onstage attire. But her brilliant energy remained, appearing in bursts as radiant as the gold watch on her wrist. She opened up about her love for comic books, her evolving role as a businesswoman and whether there is truly hope for a Danity Kane reunion.

What elements of being an independent artist have changed for you since the release of the "GoldenHeart" project?

It's hard work. What I'm excited about is people get to see the reality of it. I leave off stage and then they see me running around, handling the business part.

Few get to see artists on the other side of it. I know usually we come to the venue. We get our makeup done. We leave and everyone else takes care of everything else. But it's great that my fan base gets to see that because they see how much I love them and how much they are worth it. My website designer becomes a song guy and a producer all in one day. We're figuring it out for the fans and we want to make sure that we're giving them something great.

With your team constantly moving between these different roles, how has that affected your bonds with each other?

It's clearly strong. A lot of people have fallen to the wayside with us. People have come and gone. They get big and then they leave while a few stay constant. But that's life, and I don't dwell on that. With a few I think we're good.

You've have a great deal of success with "GoldenHeart." As you prepare to release "BlackHeart," where do you see yourself on your journey?

I'm still at the beginning. I feel like I start at one at every show and in every situation. There's a lot of bells and whistles out in the world and people are doing really well with those bells and whistles. But if you strip them of it, then I don't know if the same outcome would be that.

I'm not speaking for them. I just think what makes us rare is that we really are doing this with just pure talent and determination and it's refreshing. So every time I feel like, "Oh my God! Will we make it?," I just breathe and think about the fact that it's an eight-count and a mic. It will be so exciting to finally be there. But with my personality, I don't think I'll ever think I'm there. I think I'll always be striving.

Does that mean you always see yourself as the underdog?

I think people make me the underdog. Our industry makes me that. I don't want to be that. I just want to be a girl that likes to sing. But I think for some reason we've been pegged that and it's okay. I think people really want me to win. And in an industry where a lot of people hate on you, that's good to know.

Now you mentioned during the show that a few lovely ladies -- being Danity Kane -- caught up over lunch recently. What was that about?

We went to lunch and we trended a whole day. It was incredible to see. I don't think we ever knew the extent of how great our name was. It's nuts to see that we can go eat and leave the restaurant with people coming all out of the bushes taking pictures.

It's nuts that five years later we're still relevant, and I think that says a lot about who we are as individuals and as a cohesive. That can't be ignored. People get forgotten about in a year and no one buys their albums again. We went to lunch and people were trying to give us deals that day. It was beautiful to see [all races] of people all saying the same thing, "We would love to see this!" That's very rare.

So is a reunion possible? Is there any hope for that?

I mean after you trend for a whole day, probably. When you see something like that you can't ignore it. Was that something of an agenda? No. We found out like everybody else did on Twitter. We were just going to lunch. But the possibilities are endless now. We didn't realize that it would be that big. But the food was good. The conversation was great. And it was much needed. And we are in a good place. The people have spoken so we will see.

With you all being so busy and managing your own careers, when was the moment when you said, "You know, let's all go to lunch? It's time for us to catch up."

We all hit each other up. Everybody hit up everybody. We all hit each other up and we spoke.

D. Woods too?

Yeah, everyone was hit. Everyone has text messages to prove it. I know I texted her. We all spoke together about the possibilities and what that would be. Should we have lunch? Should we talk? Would you be down? Everyone was reached out to.

We would never do that. And obviously, let's go back, let's think track record. People didn't want to do a group with three people. Shannon didn't even come back to the show. People need to be logical about it. We wouldn't do something and not involve everyone because they didn't do it then.

Let's talk your good friend JoJo. When are we going to get collaboration or something from you too?

We are already on it! I think it's past music. There's a respect there and it's a mutual love that is so beyond what people will understand. The camaraderie that you need in womanhood, that's us. I would punch somebody in the face to have a collab with her. I think it will come. It will happen when it needs to because no one is going anywhere.

And are you still working on your comic book series? What happened there?

If people don't know about comic books and manga, that takes time. I was dealing with an independent company, so you have to design it. You have to write the storyline. I had to make a choice because I wasn't signed to a label anymore. I had to put that on the back burner so that I could do music. But it is still a passion of mine. I eventually want a comic book gallery, so that is one of the things I will probably do in the future. I'll always draw. But this is my career and the music is the catalyst. That needs to be perfected before the other things happen.

Is there anything else you'd like to add about the upcoming release of "BlackHeart?"

We haven't stopped. Our singles don't come as fast as everyone else's but I think people know by now we are independent. The music is doing well and we are not giving trash. We're giving greatness and people deserve that. We draw outside the lines, and it's exciting. We dance, we do abstract music and then we go and do a commercial record. It's all beautiful things and people can't get a hold on it. But I like that because few do it.